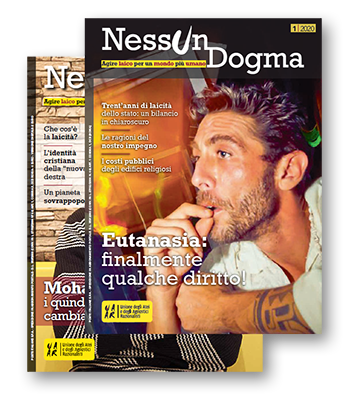 Benvenuti nel sito della rivista Nessun Dogma
Ogni due mesi vi racconteremo l'impegno di uomini e donne, giovani e no, dell'Uaar e non solo. Sessanta pagine dedicate a chi vuole cambiare il mondo per renderlo più laico, più umano, più assennato. Con gli approfondimenti, le interviste, le storie che non trovate altrove. Oggi. Perché siamo proiettati sul futuro. Per renderlo realtà.


Pianeta
a cura della redazione
di Raffaele Carcano
Perché l'emergenza climatica è una lotta umanista
di Giovanni Gaetani
di Maria Pacini
Panico morale e "think of the children argument": parliamone
di Simone Morganti
di Valentino Salvatore
Osservatorio laico
a cura di SOS Laicità
Un giro del mondo umanista, due mesi alla volta
di Giorgio Maone
Non è un pianeta per atei
di Arianna Tersigni
Due mesi di attività Uaar
di Cinzia Visciano
Ecco a voi l'Uaar di Roma
di Cinzia Visciano
Impegnarsi a ragion veduta
di Roberto Grendene
Un open day per premiare i vincitori della sedicesima edizione del premio di laurea
di Enrica Berselli
Solidarietà, non carità
di Adele Orioli
Serve il disegnino?
di Paolo Ferrarini
di Silvano Fuso
Rassegna di studi accademici
a cura di Leila Vismara
Lo sport è una fucina di pseudoscienza?
di Nick Tiller
di Micaela Grosso
Proposte di lettura
di David Mountain
Arte e Ragione
di Mosè Viero
Agire laico per un mondo più umano